The Final Touch- featuring Amber Mill (2 Day Hands-on Course)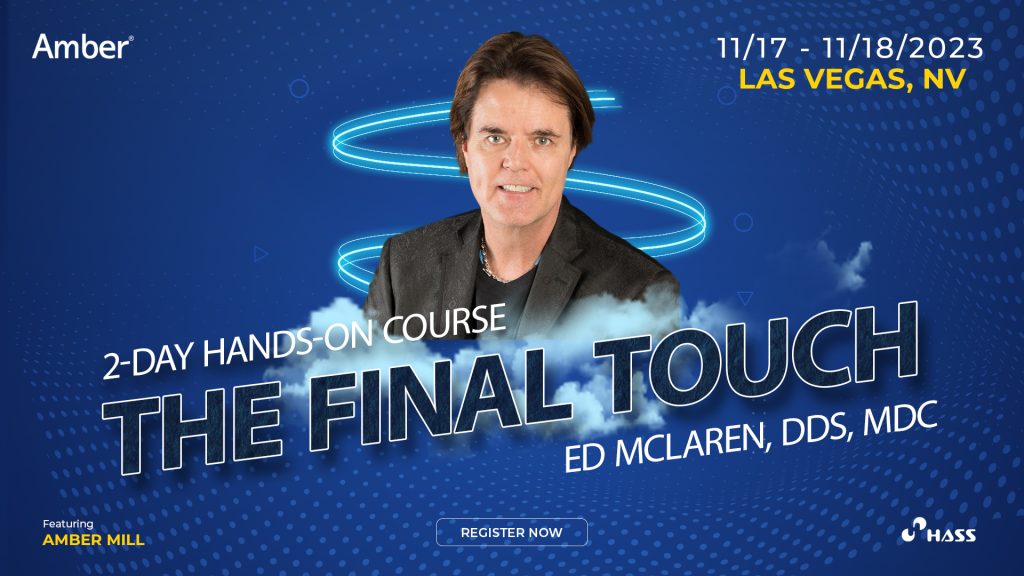 November 17
@
8:00 am
–
November 18
@
5:00 pm
Join us in Las Vegas, Nevada for a 2-day Macro-Micro Course – The Final Touch, Presented by Edward McLaren, DDS, MDC!
You'll learn about space management, contour, surface texture, final surface color, and polish can take average-looking restorations and create an exceptional esthetic result.
This course is a lecture and hands-on course that features AMBER MILL as a medium to design, form, contour, finish, and polish anterior teeth. The lecture part of the course will cover the following topics:
(1) the step-by-step process of managing the design of 4 anterior teeth for a specific maxillary arch relationship.
(2) Specific guidelines for esthetic tooth arrangement both in size and position are the key elements taught during this course.
(3) The esthetics of the individual tooth i.e. the individual form and color characteristics of teeth and the inter-relationships between teeth.
(4) Micro-esthetic elements of surface texture, and polish will be covered in a very systematic easily learnable format.
Don't miss out on all the rest of skills we'll be sharing and register today!
16 CE Credits will be awarded to participants.